Day 1 :
Keynote Forum
Université Pierre et Marie Curie, France

Biography:
Guy Fontaine has made 15 original contributions at the inception of cardiac pacemakers in the mid-60s. He has published more than 900 scientific papers including 201 book chapters. He is included in the Profiles in Cardiology (W Hurst 2003) book of the 216 individuals who have made a significant contribution to the study of cardiovascular diseases since the 14th century. He has been included in the book "500 greatest Geniuses of the 21st century" of the American Biographical Institute (ABI 2005). He was the reviewer of 17 journals both in clinical and basic Science. He served during 5 years as a Member of the Editorial Board of Circulation. He has been invited to give 11 master lectures of 90 minutes each during three weeks in the top universities of China (2014).
Abstract:
Two successive mechanisms may explain Torsades de Pointes (TdP) in patients with complete AV block. (1) A phase 2 reentrant phenomena in adjacent side-to-side myocardial fibers based on dispersion of action potential duration to explain the first TdP beat (2) this phenomenon is followed by a fast circus movement reentry in agreement with the "leading circle" concept with a speed only limited by the ventricular refractory period. The initiation of multiple "rotors" may result in VF because long episodes may lead to myocardial ischemia (Fig.1). However, intraventricular myocardial conduction blocks may explain that most TdPs stop spontaneously. Because this phenomenon needs a thin myocardial structure as demonstrated by optical mapping we suspect that its origin is located in the "crista supraventricularis". Two exit sites of the circus movement can take place along the antero-superior and postero-inferior sulcia explaining the opposite orientation of the initial vectors observed at the beginning of most of the torsades. This is followed by a Wenkebach phenomenon on at least one of these two pathways. This may explain the feature of the twisting of the QRS tips around the isoelectric line. This theory is comforted by the abrupt change in the direction of activation suggesting a Mobitz type 2 block occurring on one of these two preferential pathways. The same mechanism can be observed on a reentrant loop around an anatomical obstacle producing a TdP-like arrhythmia in case of two exit sites of opposite directions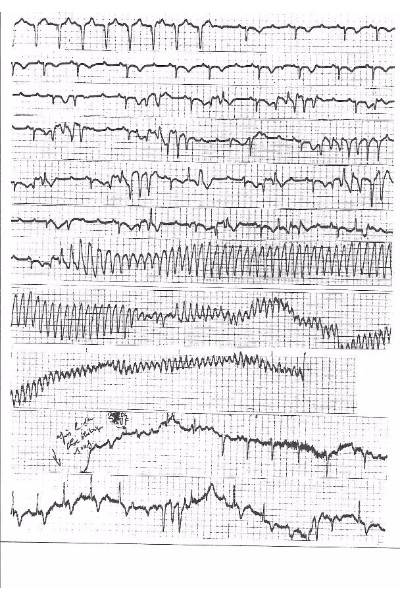 Keynote Forum
Thomas Jefferson University,USA

Biography:
Louis Samuels is professor surgery at Thomas Jefferson University in Philadelphia Pennsylvania. His Medical School, General Surgery and Cardiothoracic Surgery training were completed at Hahnemann University in Philadelphia Pennsylvania. Dr. Samuels has published over 100 peer-reviewed manuscripts on a variety of topics in Cardiothoracic Surgery, most notably in the field of artificial heart technologies and the management of acute and chronic heart failure. In the past fifteen years, Dr. Samuels has also taken interest in Beating Heart Coronary Artery Bypass Grafting (CABG) and has performed over 1000 of these procedures including totally off-pump (i.e. OP-CAB) and Pump-Assisted CABG (i.e. PAD-CAB). Dr. Samuels maintains a busy clinical practice and continues to be involved with clinical research as well as serving on various committees related to the oversight of ongoing and prospective clinical trials
Abstract:
BACKGROUND: The techniques utilized to accomplish Coronary Artery Bypass Grafting (CABG) include the traditional use of cardiopulmonary bypass (CPB) with aortic cross-clamping and cardioplegic arrest to totally Off-Pump (i.e. OP-CAB) without CPB. The purpose of this report is to describe a hybrid approach—Pump-Assisted Direct CABG (PAD-CAB)-- with the aid of CPB without aortic cross-clamping and cardioplegic arrest.
METHODS: Between November 2003 and December 2016, 317 PAD-CAB procedures were performed by the author/surgeon. The PAD-CAB procedures were achieved with standard CPB via sternotomy under normothermic conditions with the mean arterial pressures (MAP) kept between 60 and 80 mmHg. Outcome measures included hospital mortality and specific major adverse events (MAE) benchmarked against the Society of Thoracic Surgeons (STS) database. The number of bypass grafts, status of the case, specific patient factors, and postoperative length of stay (LOS) were also assessed.
RESULTS: There were 238 male (75%) and 79 (25%) female patients. The mean age was 67 years (range: 38 to 92 years). The mean ejection fraction (EF) was 50% (range: 0 to 75%) with 66 cases (21%) having an EF < 40%. Two hundred seventy-seven cases (87.4%) were non-emergent with forty cases (12.6%) classified as emergent/salvage. The average of number of bypass grafts was 3.24 (range: 1 to 5). The postoperative LOS averaged 7.5 days with a median of 6 days. There were two hospital deaths (0.65%). Major Adverse Events were: 1 deep SWI (0.32%), 3 CVAs (0.95%), and 5 POBs (1.58%).
CONCLUSIONS: PAD-CAB is a safe and effective operation with outcomes that are equivalent or superior to the outcomes reported in the STS registry for CABG. The PAD-CAB technique takes advantage of the circulatory stability achieved with CPB assistance and eliminates the potential risks associated with aortic cross-clamping and cardioplegic arrest.