Venue & Hospitality
DoubleTree by Hilton
Philadelphia Airport
4509 Island Ave, Philadelphia PA 19153, USA
Conference Dates: September 12-13, 2016
Hotel Services & Amenities
Audio/Visual Equipment Rental.
Business Center.
Business Phone Service.
Complimentary Printing Service.
Express Mail.
Fax.
Meeting Rooms.
Office Rental.
Photo Copying Service.
Secretarial Service.
Telex.
Typewriter.
Video Conference.
Video Messaging.
Video Phone.
ATM.
Baggage Storage.
Transportation
Driving Directions Updating Soon...
Route Map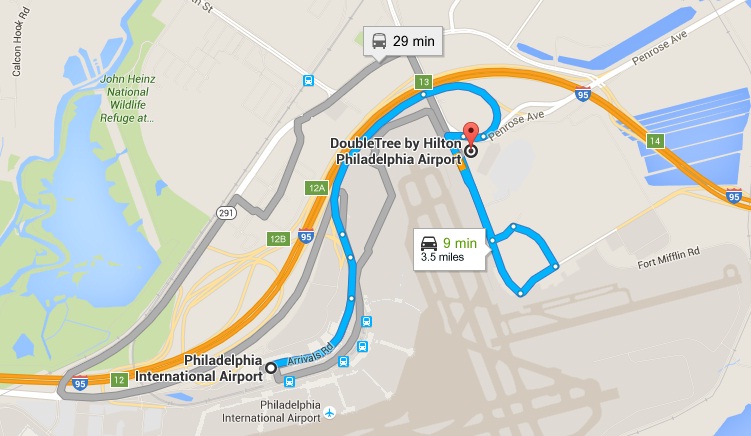 About City
Philadelphia is the only World Heritage City in the United States, is the largest city in the Commonwealth of Pennsylvania and the fifth-most-populous in the United States. In the North eastern United States, at the confluence of the Delaware and Schuylkill River, Philadelphia is the economic and cultural centre of the Delaware Valley. The estimated population in 2014 was 1,560,297.In 1682, William Penn founded the city to serve as capital of the Pennsylvania Colony. Philadelphia played an instrumental role in the American Revolution as a meeting place for the Founding Fathers of the United States, who signed the Declaration of Independence in 1776 and the Constitution in 1787. Philadelphia was one of the nation's capitals in the Revolutionary War, and served as temporary U.S. capital while Washington, D.C., was under construction.
The city is home to the Philadelphia Stock Exchange and some of the area's largest companies including cable television and internet provider Comcast, insurance companies Colonial Penn, CIGNA, Independence Blue Cross, energy company Sunoco, food services Company Aramark and Crown, chemical makers Rohm and Haas and FMC, pharmaceutical company GlaxoSmithKline, Boeing Rotorcraft Systems. Philadelphia is the centre of economic activity in Pennsylvania with the headquarters of seven Fortune 1000 companies located within city limits. According to the Bureau of Economic Analysis, the Philadelphia area had a total gross metropolitan product of $347 billion in 2010, the seventh-largest metropolitan economy in the United States.
The total parkland amounts to about 10,334 acres Philadelphia's largest park, Fairmount Park, encompasses 9,200 acres of this parkland and includes 63 neighbourhood and regional parks.The largest tract of Fairmount Park is on the west side of the city along the Schuylkill River and Wissahickon Creek and includes the Philadelphia Zoo. Fairmount Park is the world's largest landscaped urban park. This Fine Arts Museum features a strong collection of American Art from the 18th, 19th, and 20th Centuries, including works by early American artists right through to Andy Warhol. The academy is also known for being the oldest of its kind in the United State